Largest Private Collection of Relics and Artifacts on display from Shiloh
Visit the Shiloh Tours' Civil War Museum to see the weapons employed in the bloody two-day battle where the North notched up a surprising victory. On display in the exhibit space is the largest private collection of Civil War artifacts and relics from the Shiloh Battlefield area. From guns, swords and bullets to pocket knives, spurs-stirrups, uniform buttons and personal items, the exhibits offer insight into the tools of war in use at the time, their effects on human life, and the soldiers that deployed them.
Larry DeBerry's informative guided tours of Shiloh Park and history museum provide a deeper understanding of the deadly encounter between the Union and Confederate soldiers. Tailored to the needs of your group, he recreates the glory and carnage of the battle fought around the small log church in Shiloh.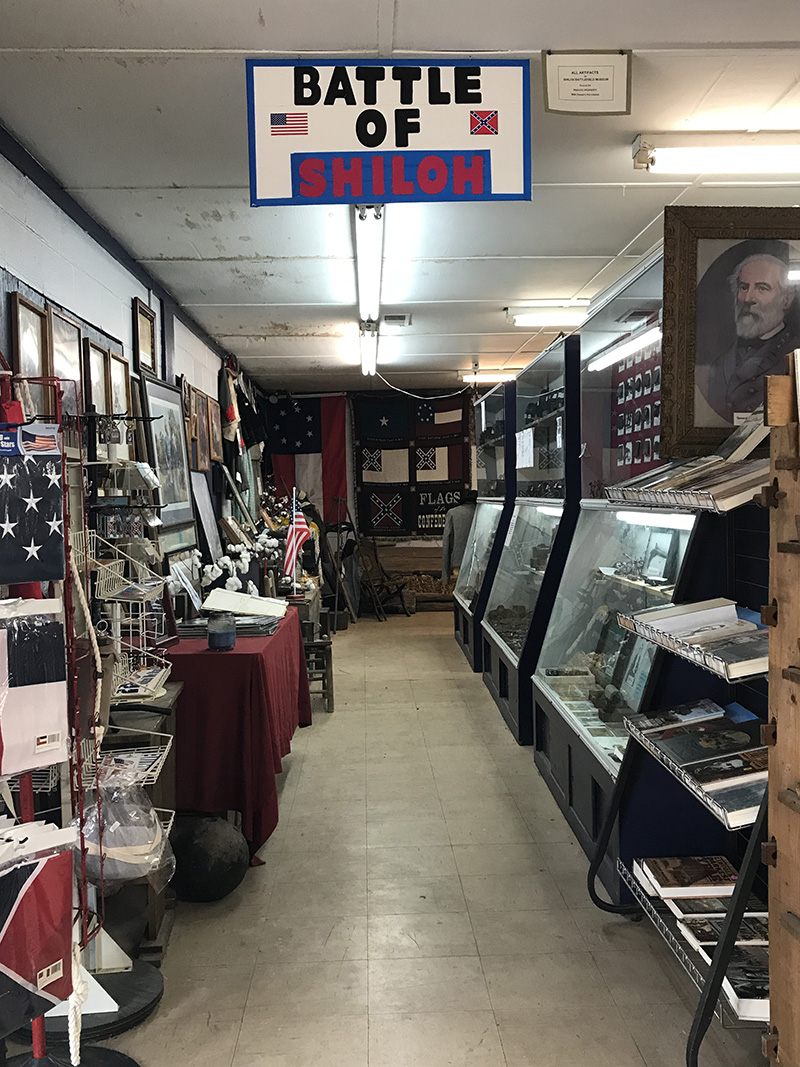 Ailses of Authentic Artifacts, Exhibits, and Displays to See! NO REPRODUCTIONS!
3 Unique Exhibits at the History Museum
Shiloh Artillery
There were 250 artillery field pieces in action during the Battle of Shiloh which was a testing ground for some of the projectiles. The museum has one each of the 54 different types of projectiles fired here, including the solid shot, shell, case shot and canister. Although these cannon balls and shells worked well in small trials, this two-day engagement proved to be the real test. Some were rarely used after Shiloh because they had flaws.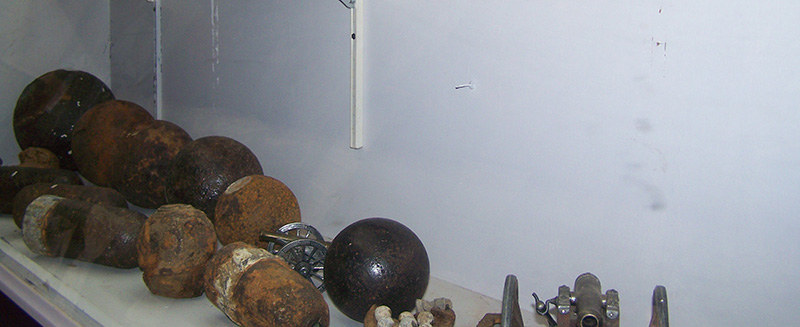 Artillery Display at Shiloh Tours Museum
Confederate and Union Belt Buckles
Learn the history of each buckle on display and discover which ones were rare. According to experts, the most common were the egg-shaped buckles with the letters "US" engraved on them worn by Union soldiers. Any buckle worn by Confederate soldiers were extremely rare. One of the rarest was the buckle with the letters "CS" engraved on it.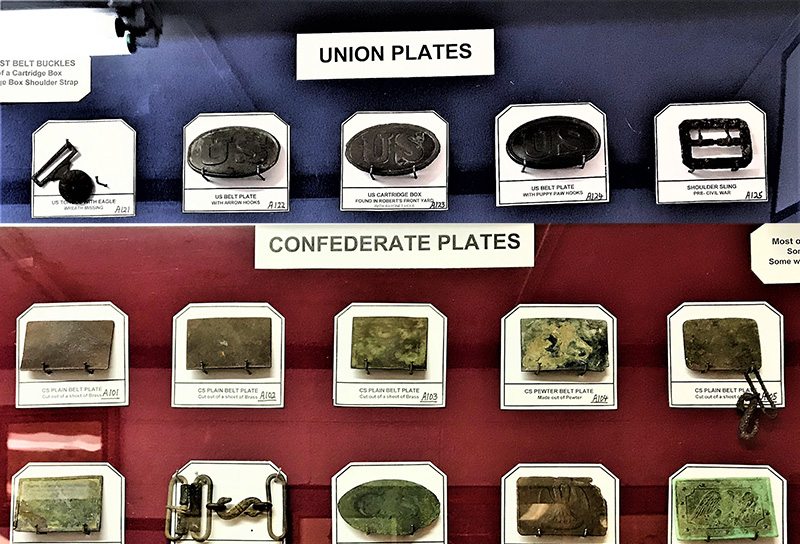 Union and Confederate Buckles at Shiloh Tours Museum
Rebel and Yankee Colliding Bullets:
It is difficult to imagine Rebel and Yankee bullets colliding in mid-air. In fact, experts claim this is a one in a million possibility, but they are here at Shiloh. The conical-shaped Minié ball was used extensively in the Civil War by Union soldiers. The Rebel bullet is known as an Enfield bullet and was also conical shaped. The design is said to have dramatically increased range and accuracy, accounting for the high number of casualties. However, the collision of these two bullets possibly saved two lives!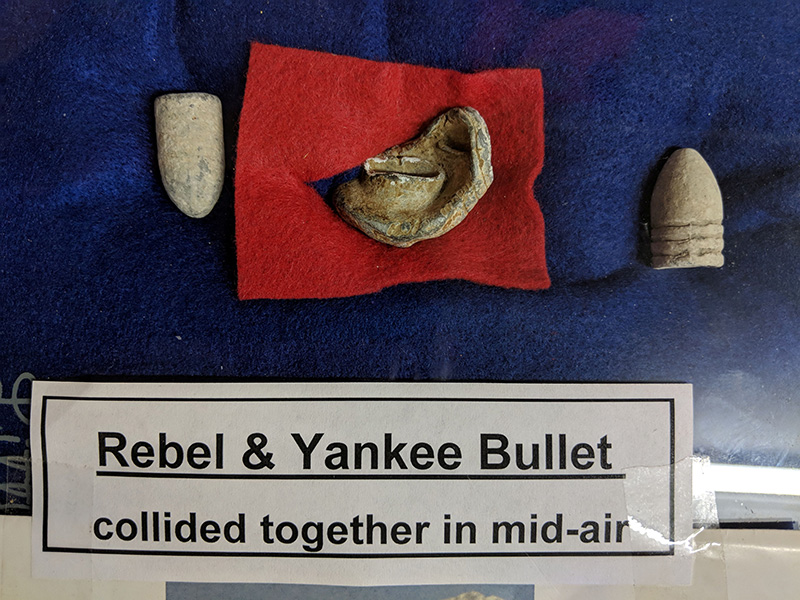 Colliding Bullets of Shiloh at Shiloh Tours Museum
Admission to Museum: $5.00
Children age 10 and under are FREE.
"We happened by this small shop on our way back to Selmer after visiting Shiloh and Corinth. I was amazed at Larry DeBerry's relic collection — one of the best I've seen.....He's very knowledgeable and passionate about history, and his shop is a hidden gem for Civil War buffs of all ages."
Eric, TX
Enrich Your Experience with a Guided Tour of Shiloh Park and The Shiloh Tours' Museum
Larry DeBerry's guided tours of the Shiloh War Museum and national park take you back in time to April 6 and 7, 1862.  In addition to being a lifetime student of the Battle of Shiloh, his family has a personal connection with the war. He gives you more than just facts!
Shiloh Tours and Museum - 1115 Hwy. 22 South, Shiloh TN.
For over 20 years, Shiloh Tours has provided families, schools, church groups and other organizations with a personalized experience of the Civil War in Tennessee.
Call us at 731-689-3336. You can also contact us online to book your guided tour of Shiloh Park or send an email to Larry DeBerry at larry@shilohtours.com.
Sign up for our newsletter using the form on this page. Be the first to learn about interesting historical facts, events and activities at Shiloh National Military Park and related points of interest.