Sit Back and Let Us Guide You through History
Have you been tasked with arranging a trip to Shiloh National Military Park for your students, church group or charter company? Our Shiloh battlefield bus tours are an ideal choice.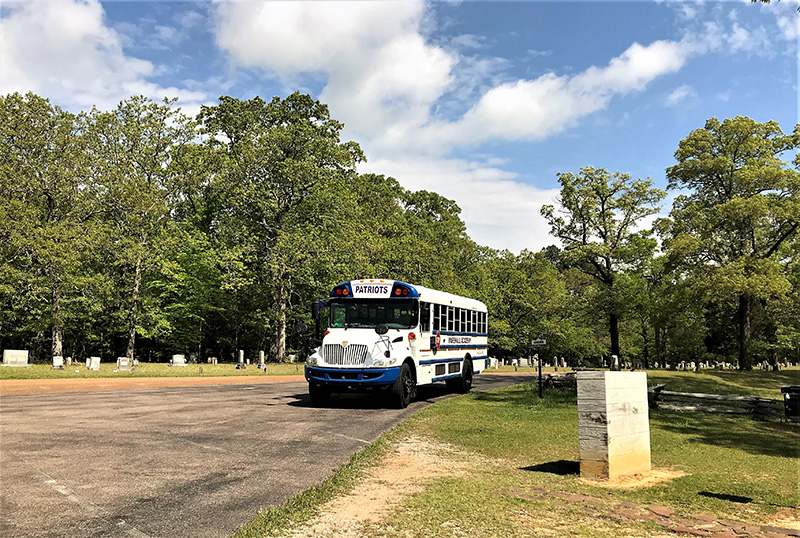 Bus Tour at Shiloh Park
Experienced in serving people of all ages and interest levels, we can help you plan the best tour for your group and guide you through the over 4,000-acre national park.
Our guided bus tours of Shiloh Park offer a personalized experience of one of the most momentous fights between the Union and Confederate armies. Sit back and enjoy an interesting ride through some very bitter moments of our nation's history with our guide, Larry DeBerry . A passionate student of the Battle of Shiloh, his engaging narrative transports you back to the early days of the Civil War.
Two days of intense fighting on April 6 and 7, 1862 with around 23,000 casualties, brought the realization that the Civil War would take its time and toll on human life. According to some accounts, 'the South never smiled again after Shiloh'. From the famous Shiloh Log Church to the Peach Orchard, the Hornet's Nest, Grant's Last Line, Pittsburg Landing, and more, our bus tour takes you to these interesting spots as we retrace all the key moments of the battle.
An informative tour of the Shiloh Tours' Museum (one of the largest private displayed collection of relics and artifacts) brings you face-to-face with the artillery used in the battle. Be sure to check out our souvenir gift shop where you can purchase memorabilia for yourself and take home some gifts for family and friends.
Year-Round Bus Tours to Shiloh Battlefield
For Bus Tours, please ask us about pricing and terms. Call us at 731-689-3336 or contact us online to request information.
Bus Tour at Sunken Road
" We really did enjoy the tour Friday. Everyone said that was the best tour they had ever taken. You made it so interesting and knew the facts. Thanks, and keep up the good work."
Church Group, Mt. Juliet TN
Book Your Personalized Tour of Shiloh Park Today!
Organizing group trips is not an easy task. We save you the time and effort involved in researching and planning the tour. Our tour guide, Larry DeBerry has lived in Shiloh all his life and walked the battlefield hundreds of times. His family has a personal connection to the area and battle. You will hear background stories, discuss the mindset of the generals and their troops as well as explore what-if scenarios to make history come alive.
For over 20 years, Larry DeBerry has delighted schools, church groups, event planners, charter companies and other interested organizations with his historical perspective and knowledge of the battle. Let us take you on an exciting ride through Civil War history.
Call us at 731-689-3336. You can also contact us online to book your guided tour of Shiloh Park or send an email to Larry DeBerry at larry@shilohtours.com.
Sign up for our newsletter using the form on this page. Be the first to learn about interesting historical facts, events and activities at Shiloh National Military Park and related points of interest.