Private Civil War Tours for a Personalized Experience
Larry DeBerry's guided tour of Shiloh Park takes you on a personalized journey through a tumultuous time in our nation's history. Whether you are on a family trip to Tennessee, a group of students learning about the Civil War, or history buffs looking to retrace the steps of the Confederate and Union armies, Larry's deep knowledge of the Battle of Shiloh and interesting background stories offer an unparalleled experience of the national park.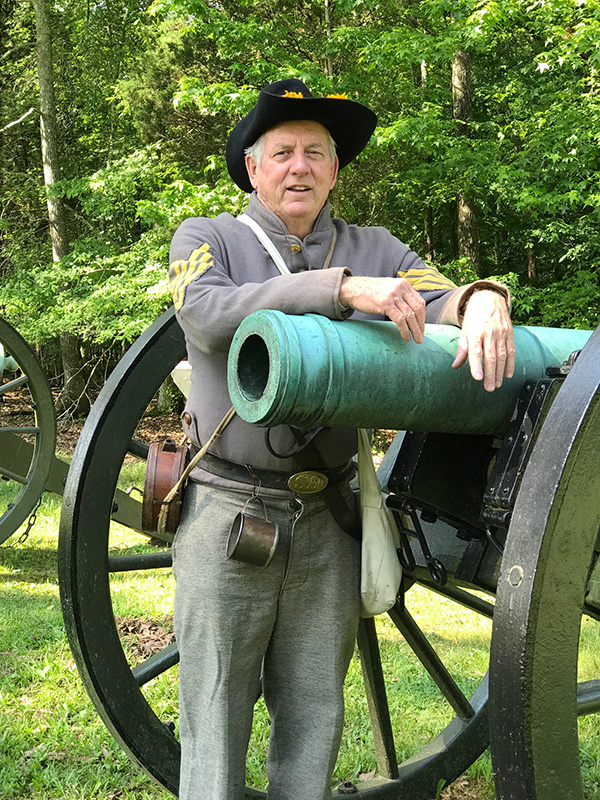 Larry Deberry at Ruggles Battery of Artillery
5 Reasons to Join Larry on Your Guided Tour of Shiloh Park
Experienced tour guide: Larry DeBerry has been conducting tours of Shiloh National Military Park for over 20 years. Having worked with people of all ages, he is able to tailor information and trip itineraries to your interest level.
Civil War re-enactor: Few guides can recount history like Larry. Having participated in modern re-enactments of the Civil War, he recreates events down to the smallest detail.
Going beyond facts: A lifetime student of the Battle of Shiloh, DeBerry provides a detailed historical account of the events while exploring what-if scenarios and discussing the fight's outcome on the Civil War. He discusses each side's strategy, examining where they failed and paying tribute to the heroes that orchestrated the North's victory.
Larry Deberry on the Sunken Road
Retracing all the key moments: Having walked Shiloh National Military Park hundreds of times over the past 50 years, he easily retraces the soldiers' steps from Fraley Field where it all begin to Grant's last line at Pittsburg Landing.
Personal connection to the war: DeBerry's tour of Shiloh Park includes fascinating anecdotes of his family members that lived here during the battle (many fields are named after his direct kin) as well as those that fought in the war between the states. His great-great-grandfather, George Washington Sowell (who helped build the Shiloh Log Church in 1851), was killed by a stray bullet while standing on his front porch on the first day of the battle.
"Thank you for the awesome tour. We enjoyed your insights and hearing about your family's involvement. It really brought the gravity of the situation home to us. "
Michael, Springfield IL
Larry DeBerry's Additional Qualifications
Commander, Shiloh Sons of Confederate Veterans for 10 years
Owner of Shiloh Tours and Museum, home of the largest private Shiloh artifact collection
Civil War Reenactor, Morton's & Freeman's Artillery – appearing in movies - Gettysburg and Gods & Generals
Member of the Friends of Shiloh - we assist the Park Service in projects and improvements of Shiloh Park
Chairman, Shiloh Log Church Project (to put the log church back on the battlefield)
Board Member & Founder, Tennessee River Museum
Caretaker of Old Shiloh Log Church Cemetery
4-year US Navy Veteran
Savannah Veteran's Park, Finance Officer; a monument has been erected for every war America has been in!
Associate Degree in Aviation Electronics, US Navy
Accounting Degree, University of Tennessee at Martin
"Larry, I wanted to thank you very much for the excellent tour. We have been raving about the great time we had. You certainly are an expert and brought the whole battle to us. "
Cheryl & Bill, Memphis TN
Book Your Shiloh Battlefield Tour with Larry Today!
For more than 20 years, personalized Shiloh Tours have helped individuals, families and large groups recreate those two bloody days of battle on April 6 and 7, 1862. Our owner and tour guide, Larry DeBerry, is always happy to share his knowledge and make history come alive for you.
Call us at 731-689-3336. You can also contact us online to book your guided tour of Shiloh Park or send an email to Larry DeBerry at larry@shilohtours.com.
Sign up for our newsletter using the form on this page and be the first to learn about interesting historical facts, events and activities at Shiloh National Military Park and related points of interest.