The Bloody Pond At Shiloh Park
The Shiloh Battlefield, Log Church, Civil War Museum… See It All!
Are you planning on visiting Shiloh National Military Park? Relive the battle of April 6 and 7, 1862 with an experienced guide, Larry DeBerry. His tour follows the order of events recreating the bloody two-day fight as you stop at landmark sites on the Shiloh battlefield.
Learn about the surprise Confederate attack on the Union forces under General Ulysses S. Grant which initially drove the bluecoats back near Shiloh Log Church. Follow the movements of both armies through the Sunken Road, the Hornet's Nest, the Peach Orchard and the Bloody Pond to the final retreat of the Confederates to Corinth. See the artifacts and relics on display at the Shiloh Tours' Civil War Museum to understand how the soldiers fought and lived.
Hornets Nest at the Sunken Road
Whether you are an enthusiastic tourist or a keen history buff, our guided tours of Shiloh Park provide an unmatched historical experience of the Civil War. Larry DeBerry will guide you every step of the way, helping you easily navigate the original steps of the Union and Confederate soldiers.
Highlights of Civil War Tours across Shiloh Battlefield
Larry recommends you watch the 45-minute (approx.) movie about the Battle of Shiloh at the Visitor Center before you start your tour. There is a showing at the top of every hour from 8:00 AM to 4:00 PM
How long? Our tours last from 2 to 6 hours depending on the type of tour you choose and how much detail you desire.
What will you see? We visit many historical sites, including Shiloh Log Church, Hornet's Nest, Sunken Road, the Peach Orchard, Pittsburg Landing and Grant's Last Line as well as the Shiloh Tours' Civil War Museum and souvenir gift shop.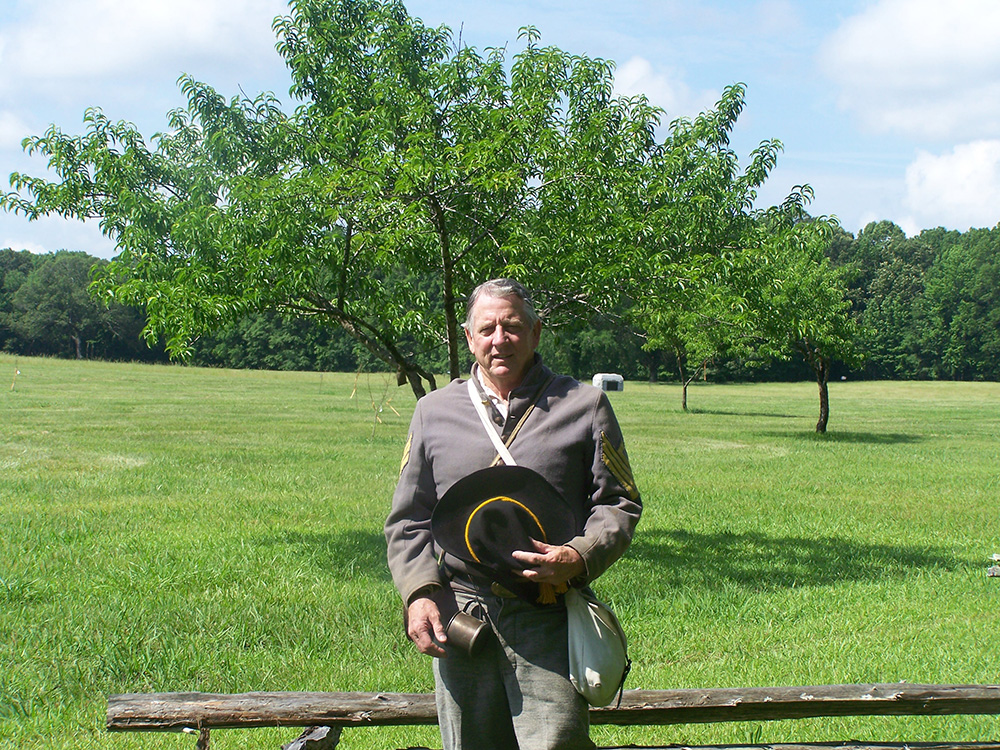 Larry Deberry at the Peach Orchard
Types of Tours, Seasons and Times:
We offer 3 types of tours:
Daily Guided Tours are offered from April 1 to October 31 on Wednesday through Saturday. There are 2 tours daily beginning at 10 a.m. and 1 p.m. Tours last for approximately 2 hours.
Private Tours are for individuals, families or small groups (1 to 6 people). Available year-round. These tours can last for 2 to 6 hours depending on the interest and wishes of the group.
Bus Tours are for large parties such as schools, church groups, event planners, charter companies and other interested organizations. Like the Private Tours, these tours are available year-round and can last for 2 to 6 hours depending on the interest and wishes of the group.
Daily Guided Tours are $30 per individual for a 2-hour tour (children age 10 and under are FREE, but this does not apply to school groups).
Private Tours (6 individuals or less) is $30 per hour for 1 person plus $5 for each additional person up to 6 individuals. A maximum charge of $55 per hour. Children age 10 and under are FREE.
For Bus Tours, please ask us about pricing and terms. Call us at 731-689-3336 or contact us online to request pricing information.
Historical Achievement Award and More
At the end of all tours, Larry gives each participant a "Historical Achievement Award" certificate. You are now a certified Battle of Shiloh enthusiast! You will also receive a folder containing documents with information covered in the tour and other additional facts about the Battle of Shiloh.
"My wife and I agree that we have never had a tour guide as enjoyable and knowledgeable as Larry DeBerry in all our years of touring places."
Ben & Barbara, Golden CO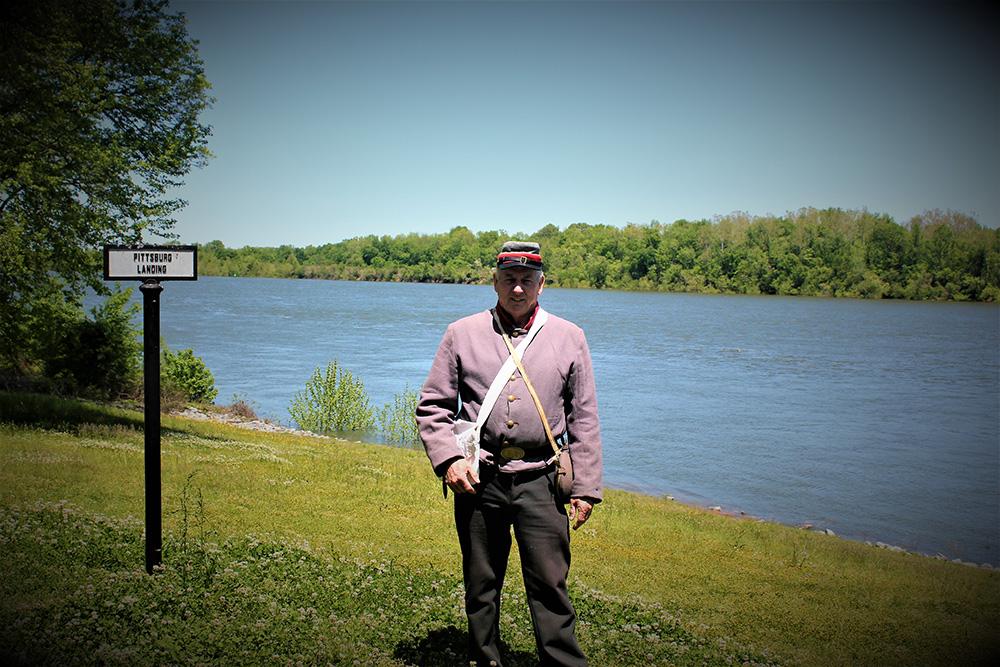 Larry DeBerry at Pittsburg Landing
Reserve Your Shiloh Battlefield Tour Today!
Shiloh is probably the best-preserved battlefield of the Civil War. Larry DeBerry has lived here all his life and has a personal connection to the battle. In fact, Larry's family heritage reaches back to times before the Battle of Shiloh, as early as the 1830s. Four sets of his great-great-grandparents lived on the battlefield when the first shots were fired.
One of the great-great-grandfathers, George Washington Sowell, helped build the Shiloh Log Church in 1851. Unfortunately, a stray bullet killed him on the first day of the fight while he was standing on his porch. He was the only civilian killed in the Battle of Shiloh. DeBerry goes beyond the facts to provide background stories, discussing battle strategies and what-if scenarios to make your tour more interesting.
For more than 20 years, Shiloh Tours has been putting visitors back in the battle! It will be a Civil War tour you won't forget.
Call us at 731-689-3336. You can also contact us online to book your guided tour of Shiloh Park or send an email to Larry DeBerry at larry@shilohtours.com.
Sign up for our newsletter using the form on this page. Be the first to learn about interesting historical facts, events and activities at Shiloh National Military Park and related points of interest.