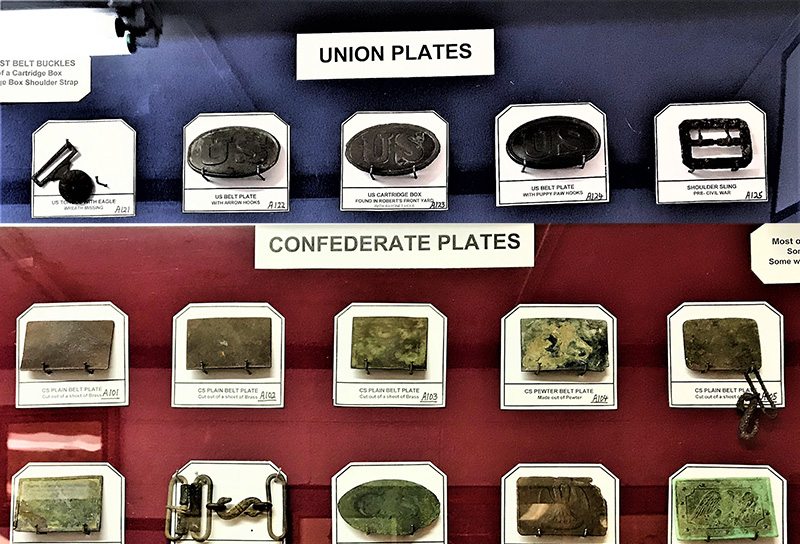 Whether you are a history buff or a collector, the fascinating display of Confederate and Union buckles at the Shiloh Civil War Museum gives you a unique glimpse into the combat wear and craftsmanship of the time. Soldiers sported many different styles at the time, but the most common buckle worn on the battlefield was the US Oval. Experts say the rarest one is the eleven-star, two-piece Confederate officer's sword buckle. Larry DeBerry, a Battle of Shiloh and Civil War history enthusiast, outlines their features below.
Union US Oval Buckle: The most worn Union buckle was the oval-shaped, cast brass belt plate with raised US letters and worn by enlisted men. Thanks to the Union's superior industrial resources, they were able to die-stamp as many as a million of these egg-shaped buckles which were proudly worn by their soldiers.
Rectangular and Round Eagle Buckles: Made of cast brass, this buckle sported an Eagle and Union shield with a separate silver wreath attached. It was worn by officers, non-commissioned officers and mounted soldiers. Another type was a round cartridge box-shoulder belt buckle with an eagle which was used with a sword belt as well.
Confederate Buckles: The most common Confederate buckle was a frame type buckle. Rectangular and oval, they came with the letters 'CSA' or 'CS' on them. Stamped copper buckles backed by lead were common too. These rounded buckles were not of uniform size because they were not manufactured in foundries. Being less industrially developed, many of the buckles worn by Confederate soldiers were made by individuals with little or no experience in metalwork.
Confederate 11-Star Two-Piece Officer's Sword Buckle: The CS buckle with 11 stars is a collector's treasure. It is believed that officers who wore them commissioned them personally just as they did their belts. With the casting process dependent on the fragile sand-mold, very few were made at the time, which accounts for their rarity.
A close-up view with of the Union and Confederate buckles worn during the Civil War reveals a difference in metal quality and workmanship. Many replicas are available today and some fakes are more easily spotted. Not surprisingly, Confederate buckles are more difficult to certify. Why? You guessed right! Usually made by amateurs, they are easier to replicate.
From uniform buttons and buckles to guns, swords, bullets, pocket knives, spurs-stirrups, and personal items, the Shiloh Civil War Museum has the largest collection of exhibits of the battle in Tennessee. Larry DeBerry's informative guided tours of Shiloh Park and museum offer an interesting perspective of the deadly encounter between the Union and Confederate soldiers. He gives you more than just facts!
For over 20 years, Shiloh Tours has provided families, students, church groups and other organizations with a personalized experience of the Civil War in Shiloh.
Call Shiloh Tours at 731-689-3336. Or contact us online to book your guided tour of Shiloh Park and the history museum. You can also email Larry DeBerry directly.